MIRROR MIRROR #3 (NL)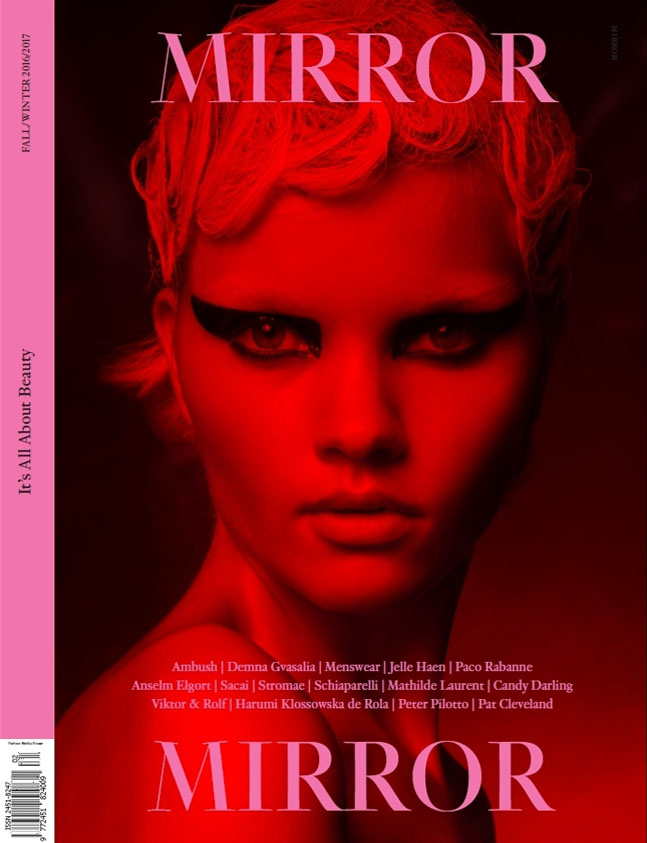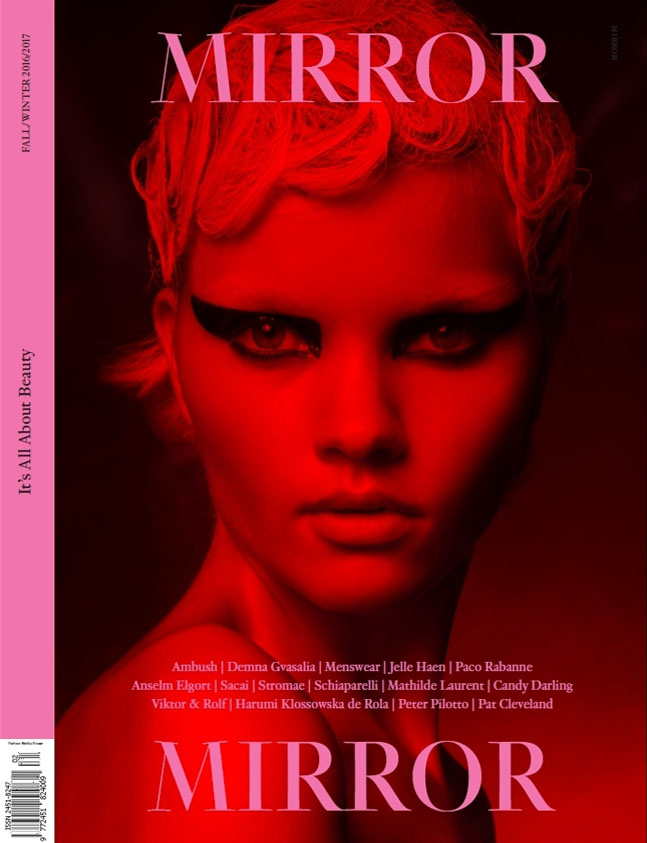 MIRROR MIRROR #3 (NL)
MIRROR MIRROR #3 (F|W 2016|2017) kost € 10,00
inclusief verzendkosten.
Deze prijs geldt alleen in Nederland. [OUTSIDE NL]
MIRROR MIRROR
FASHION/BEAUTY/PHOTOGRAPHY
12 Interviews |11 Fashion shoots | 1 essay |5 Beauty shoots | 1 profile |& More
STARRING
Demna Gvasalia|Ambush|Sacai|Candy Darling|Jelle Haen|Paco Rabanne|Ansel Elgort|Balmain|Schiaparelli|Mathilde Laurent|Stromae|Viktor & Rolf|Harumi Klossowska de Rola|Peter Pilotto|YSL|Pat Cleveland
MIRROR MIRROR #3 staat in het teken van durf. Immers, zonder branie gebeurt er niks opwindends. Dan start niemand dat te gekke merk, stap je niet af op die leuke jongen, solliciteer je niet op die droombaan en begin je geen magazine.
"Curiosity sets things in motion," constateert Paco Rabanne, ex-modeontwerper en naamgever van vernieuwende parfumconcepten in MIRROR MIRROR.
In MIRROR MIRROR staan uitsluitend daredevils. Zoals Demna Gvasalia, die uitlegt waarom dit het moment is om een andere richting in te slaan met zijn succesvolle Vetements. Popster Stromae onthult hoe hij zijn mediagenieke verschijning aan het veranderen is.
Voorkom wat Sacai's Chitose Abe op een dag dacht: "Is this it?" Lees hoe de ontwerper actie ondernam.
Wat betreft brutale beauty: less is a bore. Volg de nail-art revival. Zeg yeah tegen geel: het nieuwe roze. En de nieuwe lip is zwart mét gloss. Just dare!
TE KOOP VANAF 26 SEPTEMBER €10. VERKOOPPUNTEN: WWW.MIRROR-MIRROR.NL
Verder in Mirror Mirror:
The most talked man in fashion: Demna Gvasalia. Een exclusief interview met de artistic designer van Balenciaga en co-founder van het Franse label Vetements.
"I am a fashion DJ, I mix things."
Paco Rabanne praat. Een mindblowing interview met een genie.
"I'm leaving for a relatively new planet in a very, very, very distant planetarysystem. This planetary system is more interesting than ours because it is located at the center of the Milky Way, near Sirius."
The most talked influencer in de beauty wereld: de Nederlandse Céline Bernaerts In samen werking met YSL Beauty liet Céline – 100.000 IG volgers - zich inspireren door a true icon: Marilyn Monroe.
Het Balmain Effect. Gigi Hadid, Kendall: ze kunnen niet zonder Balmain Hair. Hoe de ontmoeting met Pierre Balmain en de Nederlander Stuart Guliker uitmondde in het succesvolle Nederlandse Balmain Hair Couture.
Popster Stromea praat met MIRROR MIRROR over zijn bijzondere uiterlijk.
"I'm a little jealous of the wardrobe of women."
"My route to stardom was Andy Warhol."Verhaal en shoot geïnspireerd door Warhol muze Candy Darling aka James Slattery, the Bruce/Caytlin Jenner van de jaren zeventig.
Supermodel Pat Cleveland. Het eerste zwarte supermodel. Ze blikt terug op haar carrière en verhouding met bokser Muhammed Ali:
"I chose fashion instead of being a young bride of an icon."
Het Japanse power mode duo Yoon en Verbal van Ambush. Deze designers/rappers/ producers veroverend de modewereld in rap tempo.
Iron Curtain Retro. Essay van MIRROR MIRROR redacteur Jesse Brouns.
"Na dertig jaar maakt Eastern Bloc style een comeback in de mode."